Get Connected
In light of COVID-19, we are only offering one in-person worship service at 11:00 a.m. This is a traditional service in which social distancing is required. Face masks are optional for people who have been fully vaccinated (2 weeks after last injection), and a designated area is provided for those who feel safer wearing masks. We also offer a contemporary online service and Bible study online a grocery delivery service for people in the high-risk group; a Care Caller ministry to check-in on all members; and lots of engagement through social media .
All of this reminds us that the church is not a building. Rather, it's the people of God working together for the mission of Jesus to make the world a better place. First UMC will continue to serve this mission in new and creative ways through the pandemic. For more information, contact the church office and get on our email list. You can also get updates by liking our church Facebook page and subscribing to notifications.
Online Resources for Discipleship
Online Worship
First UMC uses Facebook Premier to provide a contemporary online worship service. Since our page is public, you are not required to have a Facebook account to view the video. Simply go to the church Facebook page, scroll down to the video, and click on it. If a dialog box pops-up and asks you to log-in or create an account, you can simply close that box and proceed. If you do have Facebook, please "Like" our page and subscribe to notifications.
Worship playlists
Do you want to worship with music throughout the week? Our musicians and singers have created contemporary and traditional playlists that are accessible through our church Facebook page. In addition, we offer contemporary playlists with songs from popular artists that we sing in worship. These can be accessed on YouTube, Apple Music, and Spotify.
online sermons
In addition to our full worship services, you can also access Pastor Mark's sermon on YouTube and iTunes. For iTunes, search "Pastor Mark Reynolds" in your podcast app.
daily scripture readings
If you would like daily scripture readings to guide your devotional times, go to the Revised Common Lectionary on the Vanderbilt Divinity School Library website. If you have a smart phone, you can also download an app. called Daily Office Lectionary that will give you daily readings in the Old and New Testaments.
You can access the Bible on many websites, but we recommend Bible Gateway. You can also download the Bible app, YouVersion, on your smart phone.
As you read the Bible daily, we encourage you to pray through the scriptures using an ancient method called lectio divina (i.e., sacred reading). Here is a simple guide:
As you read scripture, what grabs your attention? What word, image, or verse speaks to your heart? Close your eyes, and memorize the word, image or verse in your heart.
Ask yourself, "What is God trying to say to me?" Reflect on this in personal and concrete ways to discover where you need insight, encouragement, correction, or change.
Say a conversational prayer being honest with God about what you are feeling and thinking. What do you need to do in obedience to God? Write down a concrete and specific application that you will implement today.
Close your eyes, take a few deep breaths, and clear your mind. Sit in stillness and silence with God. It may help to focus on your breathing. As distractions come, simply observe them without judgment, let them go, and return your focus to the cadence of your breath. The goal is to relax into the presence of God without an agenda. To simply be with God.
Pastor mark's blog
Pastor Mark loves to learn and is truly a teaching pastor. When he has the time, he also enjoys writing. You can get to know how he thinks by checking out several articles and devotionals he has written on his blog (www.revmarkreynolds.com).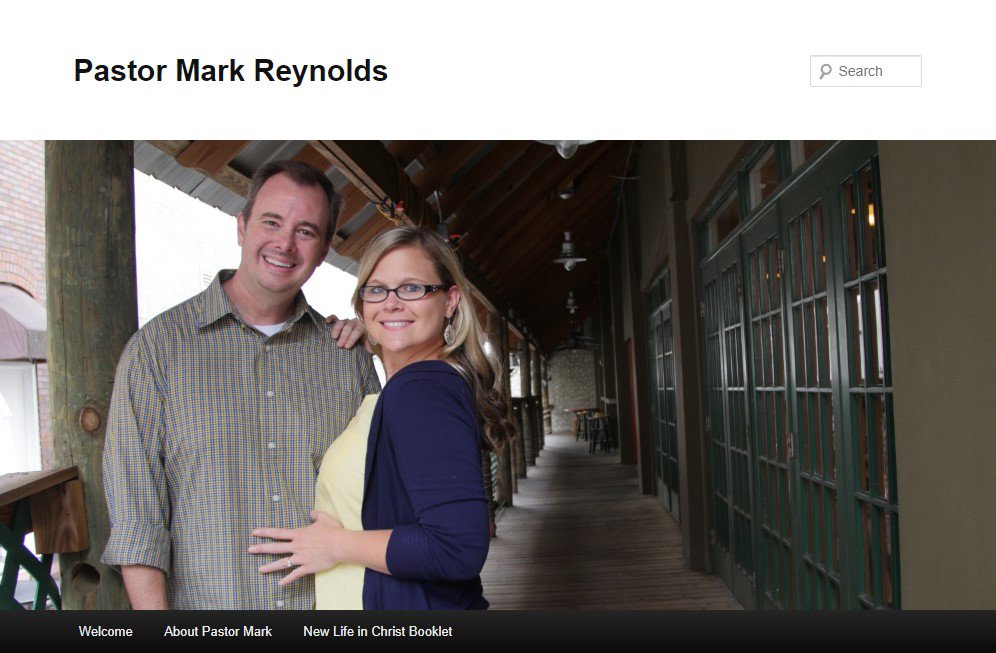 more resources
We offer other online classes and Bible studies through video conferencing and call in meetings using GoToMeeting. Check out our online calendar for options and let us know if you would like more information. Those who sign-up get an email from the leader with links and credentials to connect to the group. You can also request to be added to our church email list to get announcements about new opportunities. We also encouraging you to connect with us through social media pages and groups.
"First UMC is a teaching church with a knowledgeable pastor who brings people together to grow their faith."
-Lora Resch