All Hands on Deck!
At First UMC Cocoa Beach, we believe that Jesus gives all Christian churches the same mission, which can be found in Matthew 28:19-20: "Go therefore and make disciples of all nations, baptizing them in the name of the Father and of the Son and of the Holy Spirit and teaching them to obey everything that I have commanded you." In other words, the church exists to make disciples of Jesus for the transformation of the world.
In giving this mission, Jesus knew that it was too big for one person or even a small group of people to accomplish, which is why he sent the Holy Spirit at Pentecost to give us the gift of the church. We cannot realize our full potential as Jesus followers without the support and accountability of the friends in our community of faith, and we cannot accomplish the mission of Jesus unless we all work together as a unified body.
This means that the church is not primary a place where other people serve us but where we are called, equipped, and commissioned to serve others. We follow Jesus by serving his mission together, and in the process, we are healed, set free, and transformed into his image. Since God designed the church this way, every baptized believer is gifted for ministry and has a mission critical role to play. We need all hands on deck!
S.H.A.P.E. Workshop
Did you know that God has uniquely wired and gifted you for ministry? It says in Ephesians 2:10: "For we are God's Masterpiece. He has created us anew in Christ Jesus, so that we can do the good things he planned for us long ago" (Ephesians 2:10).
To help you find a meaningful place of service, we offered a S.H.A.P.E. workshop. As you reflect on your spiritual gifts, heart, abilities, personality, and experiences, you are in a better position to prayerfully discern where to invest your time and energy in advancing the mission of Jesus.
(Take a Spiritual Gifts Inventory: https://www.umcdiscipleship.org/spiritual-gifts-inventory/en)
If you are interested in taking this workshop, please contact the church office.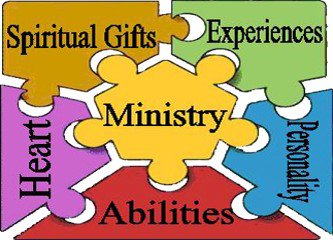 Areas of Service
Download the following Team Church Interest Inventory to see the different areas where volunteers are needed. You can print, complete, and return this inventory to the church, or send us an email with your contact information and what area(s) you would like to explore. (Since some mobile phones will not allow you to download online documents, this may require you to use a desktop or laptop computer.)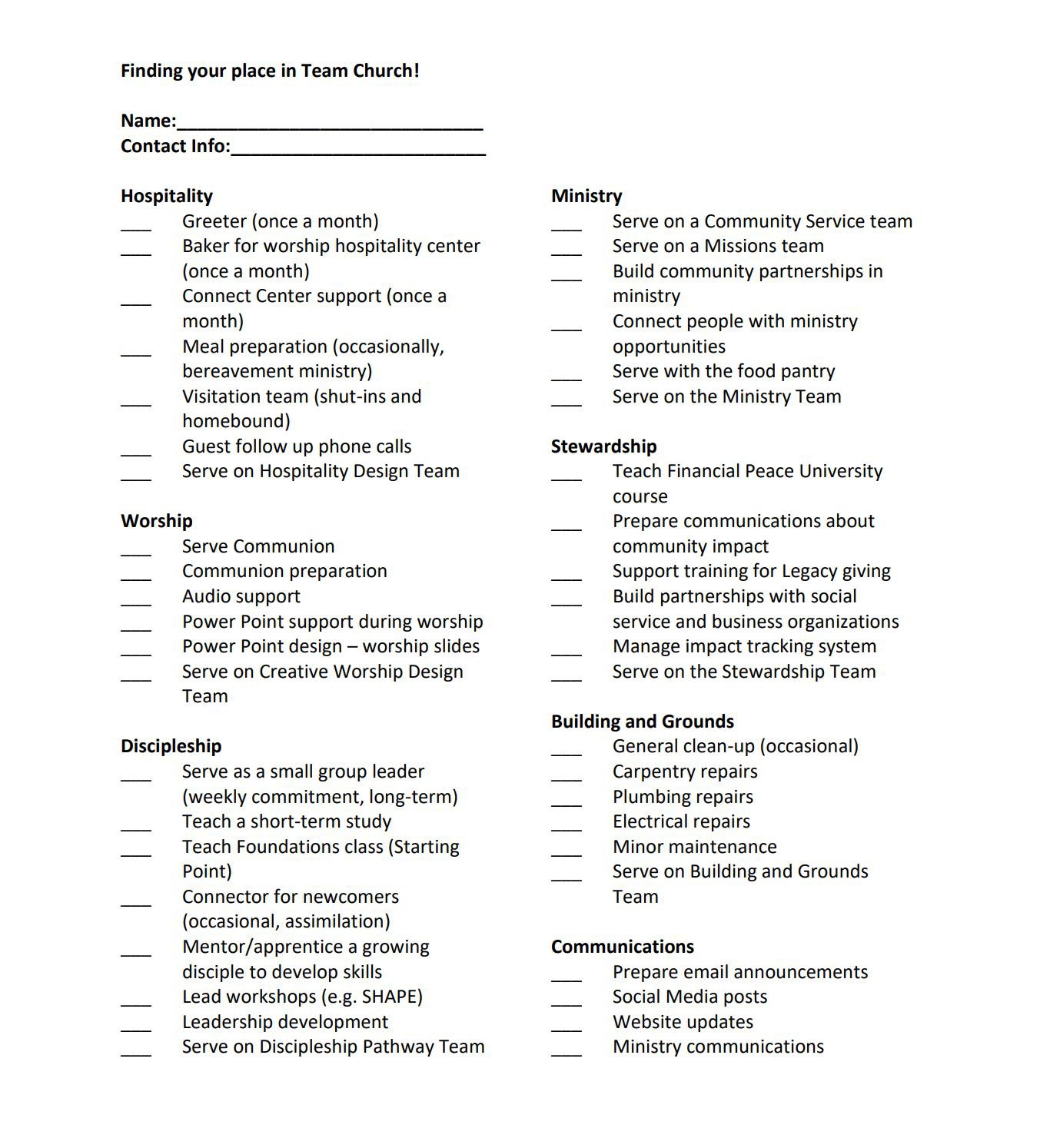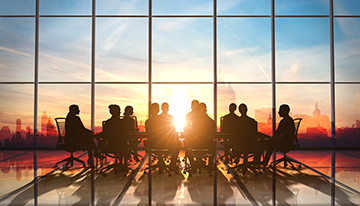 Serving on the Governing Board
The Governing Board is primarily responsible for:
Annual strategic planning
Developing missional outcomes that set the direction for the church
Insuring sound policies, procedures, and guidelines related to church property, finances, and personnel
Support and accountability for the Property and Maintenance Team
Support and accountability for the Senior Pastor
Members of the Board must be nominated by the Committee on Lay Leadership and elected at Charge Conference. After elected, they typically serve a three-year term.
If you are a member of the church and are interested in serving on the Board, click the link below and save the PDF document. Then you can open, print, complete, and return it to the church office. (Since some mobile phones will not allow you to download online documents, this may require you to use a desktop or laptop computer.)
Once your profile is received, someone will call you for an exploratory conversation.