Children's Ministry at First UMC
At First UMC, we love kids and honor them as a vital part of our church family!
Although kids are always welcome to remain with their families during worship, we offer some great programs too.
To facilitate these programs, we provide safe, age appropriate, fun environments where your kids can learn about God's love, what it means to be a follower of Jesus, and how to make the world a better place.
Volunteers and parents partner to accomplish three primary goals: (1) help kids develop a life-long, meaningful relationship with God, (2) to have lots of fun, and (3) to make friends. We accomplish these goals by making Bible stories come alive through interactive storytelling, videos, discussions, music, crafts, and games.
Our hope is that when your child leaves First UMC they will beg you to come back!
What About Safety?
All volunteers who work with children or youth undergo a strict screening process with background checks every three years and mandatory annual trainings on our comprehensive Child and Youth Protection Policy. We also adhere to best practices in classroom and behavior management.
Your child's safety is our number one concern!
Sunday Mornings
Ages 1-4: During both our 9:30 a.m. contemporary service and our 11:00 a.m. traditional service, we offer a nursery . Our teachers lovingly engage our little ones with fun, age appropriate, interactive activities that introduce them to God's love. If you have children in this age range that you would like to participate in the nursery, please let us know by the Wednesday prior so we can schedule a teacher. You can do this by calling the office or emailing our Minister of Children and Families, Kyra (kyrafumccb@gmail.com).
Ages 5-11: We offer a fun Kids Club experience for our elementary school students during the 9:30 a.m. service. At the 11:00 a.m. service, we provide activity bags and children remain with their parents in the sanctuary.
Children & Family Community Events
We typically host a community event for children and families once every two months. This includes fun things like our pumpkin patch, trunk-or-treat, parents' night out, and Vacation Bible School. In addition, when we offer various adult groups, classes, or events, we often provide childcare upon request.
Coming Soon!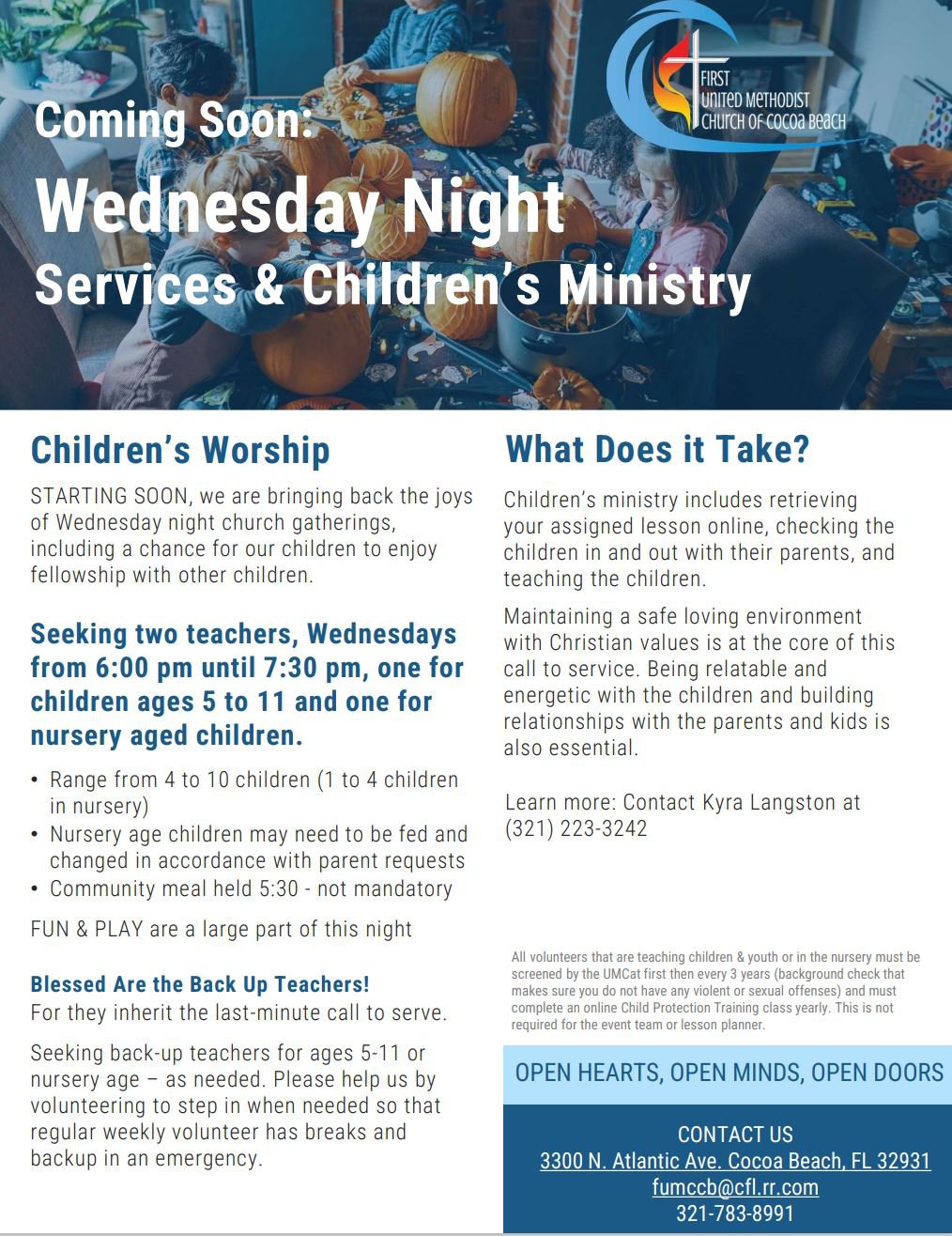 Preparing for Your First Visit
Here's what to expect when your child attends for the first time on a Sunday:
(Remember, children are always welcome to remain with their family in worship. There is no pressure to participate until they are ready.)
First, prior to the worship service, make your way to the children's classrooms downstairs in the sanctuary building. The classrooms are clearly marked, but if you have trouble finding the right room, don't hesitate to ask someone for help. There we will meet your family and answer any of your questions.
Upon checking in for the first time, we will ask for the following personal information.
(NOTE: We value your privacy and will not share this information with anyone)
Parent/guardian name(s)
Child's name
Child's birth date
Home address
Parent's cell phone number (so we can text you during service if needed)
Parent's email
Any special instructions (allergies, special needs) for your children
During Service: In the event that we need to contact you during the service, a volunteer will text you. Please keep your phone on and switched to vibrate to ensure an open line of communication. If you receive a text from us, we ask that you exit the sanctuary immediately and proceed to your child's classroom.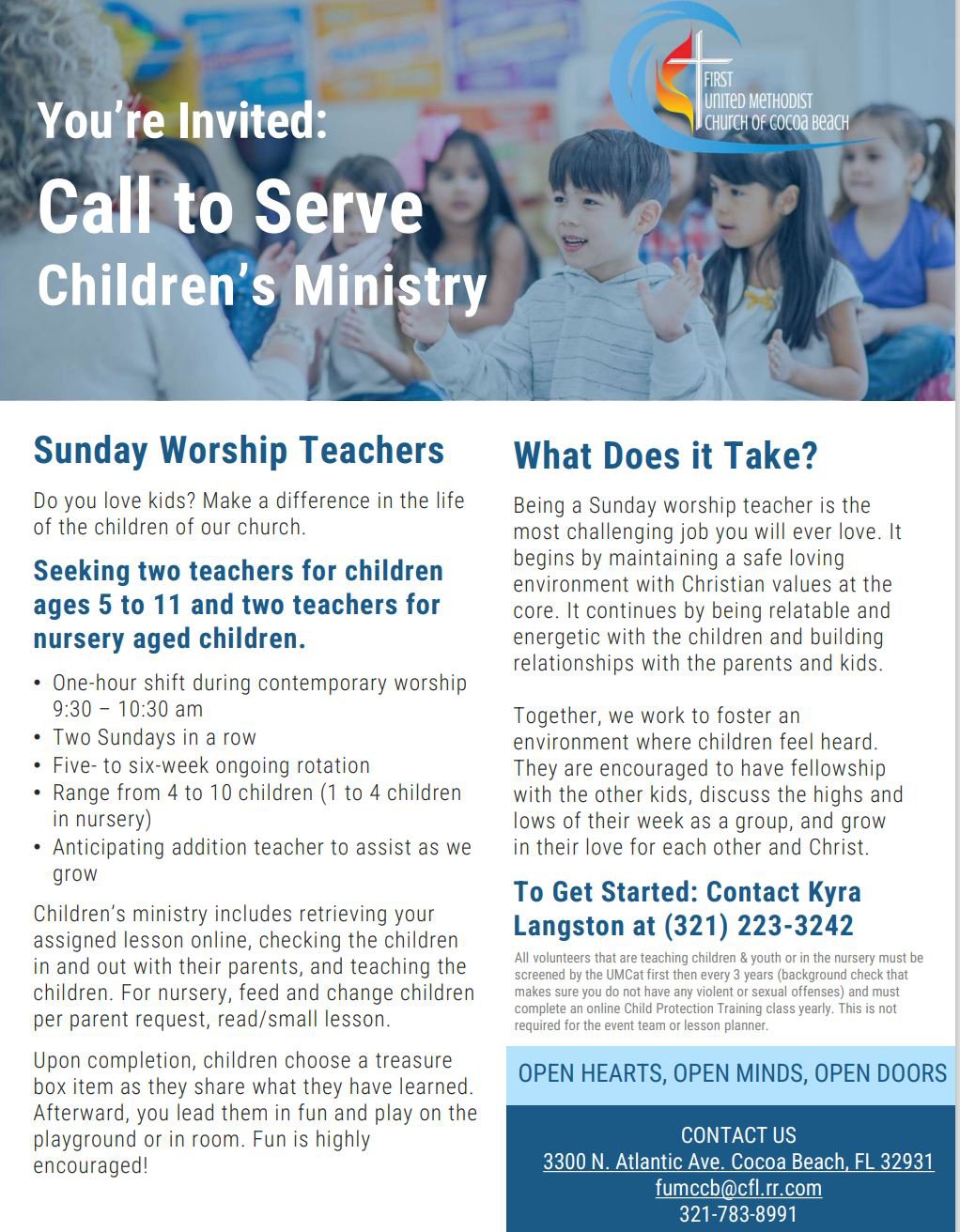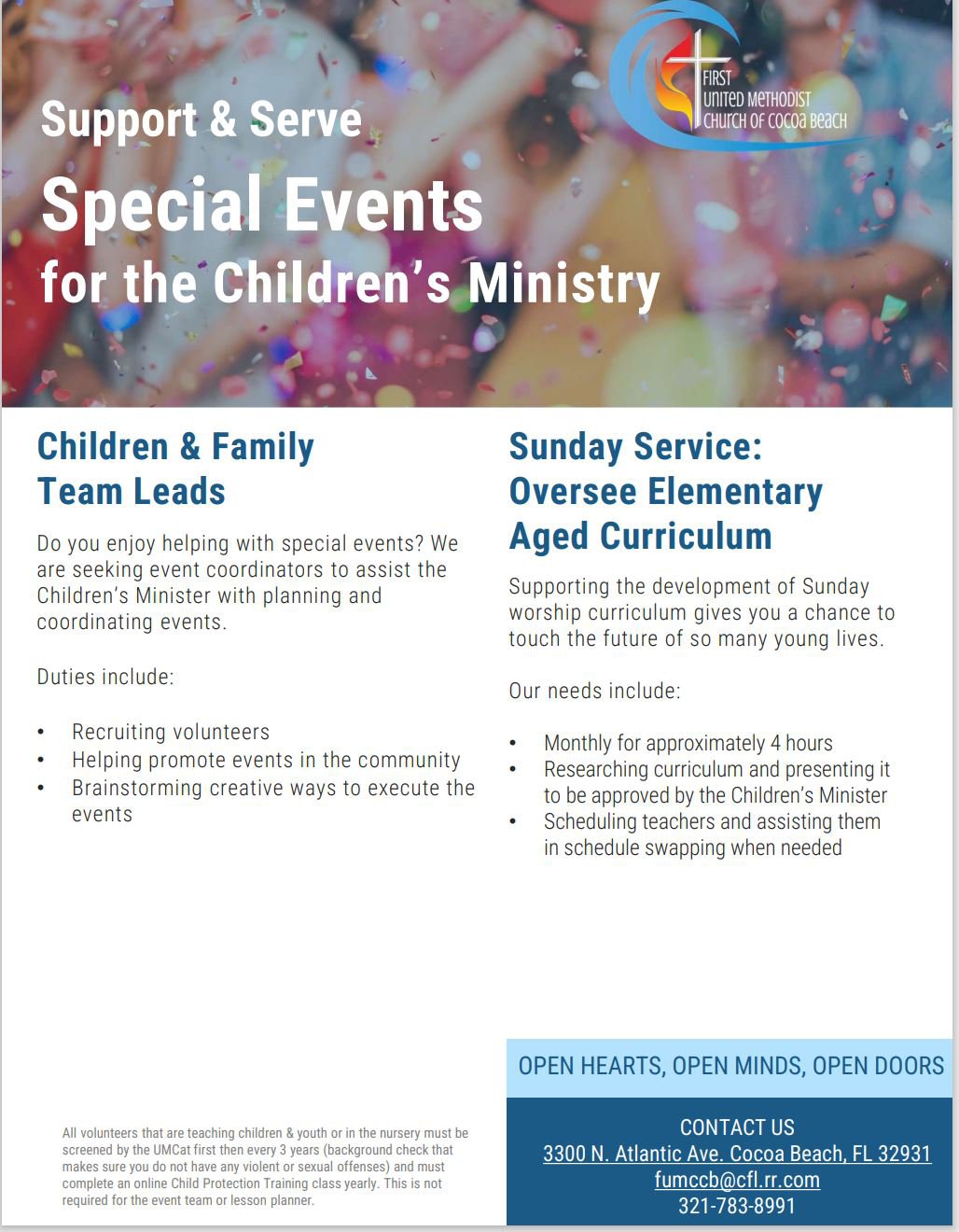 Got questions?
If you have questions concerning our Children's Ministry, simply click the button below and get in touch with us!